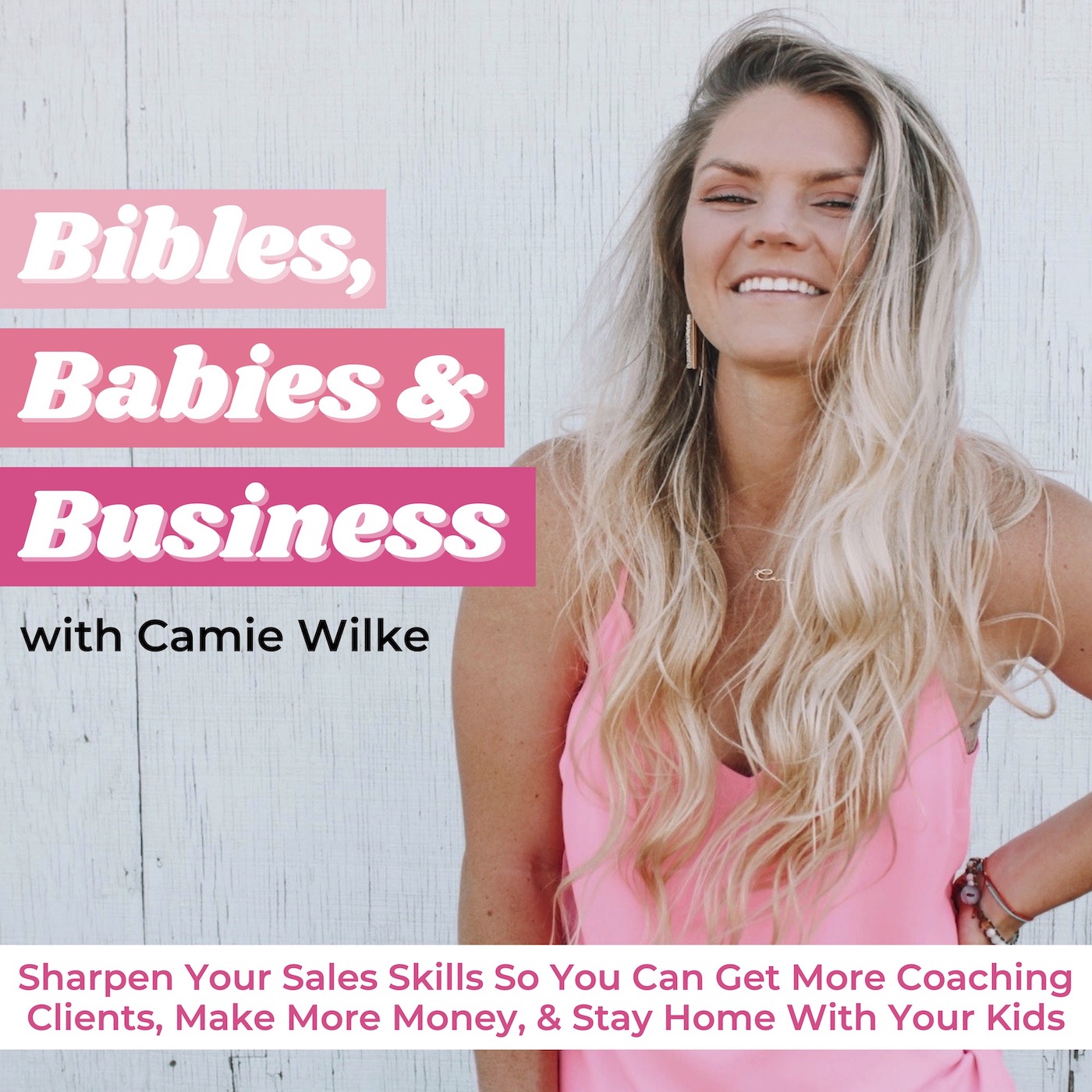 Do you dream of being a stay at home mom while also providing income for your family? Do you feel the Lord calling you to start your online business, but have no idea where to start? Do you wish you knew how to get more coaching clients, market yourself online, & increase your income, so you can experience the time & financial FREEDOM you've been craving? If you answered "YES" to any of those questions, then welcome to the Bible, Babies, & Business Podcast, my friend. You're in the right place. Inside these episodes you will find all things faith, motherhood, coaching, & the strategy you need to build a business that makes money online. My mission is to help you market yourself online using Instagram, get more coaching clients, know which tasks you need to focus on each day to move your business forward, & grow your income so that you can stay home with your kids. Because no one is more anointed to raise your babies than you, mama! I'm Camie Wilke. Unapologetic follower of Jesus, wife, soon-to-be-mom (eeeeek!!!) & your Faith-Based Online Business Coach. Back in 2019, my husband and I were living paycheck to paycheck in a tiny little apartment & struggling to make ends meet. I had a dead-end job that stole all of my time & barely paid the bills. As a brand new wife with a deep desire to be a stay at home mom someday, I began searching for a way to make money from home, & the Lord led me to online coaching. #THANKYOUJESUS After starting my coaching business, quitting my day job, & closing over $125,000+ online, I've compiled everything I've learned into a step-by-step formula so that you can build YOUR coaching business & grow your income from where you're needed most: home. It's everything you need, with zero fluff, because as a busy mom, you don't have time to waste. So if you're ready for all things Bible, babies, & building an online business, then grab your coffee & press play on these episodes, sister. & just remember, you were made for this. Xoxo, Camie MOM BOSS COACHING ACADEMY: https://www.camiewilke.com/mom-boss-coaching-academy Facebook Community: https://www.facebook.com/groups/camiewilkebusinesscoaching Instagram: @camie.wilke Email: support@camiewilke.com
Episodes
Thursday Sep 01, 2022
Thursday Sep 01, 2022
Have you ever wondered why you're here? What your purpose is? Why God placed you in that city, with that family, with those gifts, & in this time in history?
If so, then today's episode is for you. We're doing a Bible Study Breakdown in one of the most action-packed books of the Bible (& also one of my personal favorites), the book of Esther 💛
For every Christian entrepreneur who has ever struggled with feeling unqualified, imposter syndrome, wondering if God has a seat for you at the table, or needing courage to be obedient to the assignment God has given you, I pray this episode encourages you.
Today, we'll uncover 5 lessons every Christian entrepreneur needs to know about:
Using your God given gifts to start an online coaching business
What to do when obedience starts to feel uncomfortable
& not allowing your circumstances to limit what you think God can do through you.
I'm so thankful you're tuning into this episode, friend, because it's a good one!
Grab your Bibles & something to write with, because we're diving in!
Let's do this.
Xoxo,
Camie
⭐️ ⏰ Join the Mom Boss Coaching Academy BEFORE THE PRICES GOES UP! Learn how to get more clients + increase your income in your coaching business!
https://www.camiewilke.com/mom-boss-coaching-academy

🌸 Come hang out inside my Facebook Community for Business Support, Encouragement, Sisterhood, & More!
https://www.facebook.com/groups/camiewilkebusinesscoaching/

⁣⁣📲 Send me a DM on Instagram! @camie.wilke⁣⁣⁣
💌 Have a question or want to get connected? Send me an email! support@camiewilke.com